The Importance of Rain
The Old Testament world was primarily agricultural; yet the geographical area in which many Bible stories take place tends towards dryness, even drought. Therefore, rain was the lifeblood of sustenance. The early rain began the growth of the crop; the late rain brought that growth to fruition.
Text from Jews for Jesus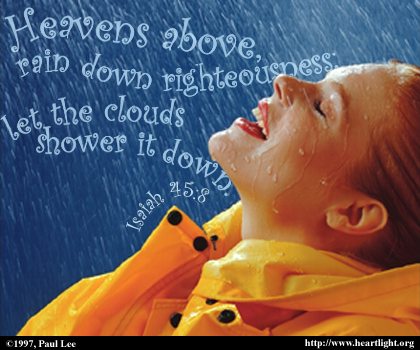 Our Father,
Thank you for rain!
Thank you for the sound of it bouncing off the skylight,
for the patterns it makes as it runs in rivulets down the window panes.
Thank you for the scent of the damp forest floor
and the smelly aroma of my dog's wet coat.
Thank you for how it causes the crops in the field to grow
and for bringing forth blooms of resplendent beauty.
Thank you for the blessing of Your rainbow!
In Jesus Name
Amen.