From the very first time that sin entered the world through Adam and Eve, God had already put in place a way to redemption for His people and even as each generation became more sinful and turned away from their Creator, God's greatest desire was to give them the opportunity to repent and turn back to Him. He would send One who would reconcile His people to Him. The whole of the Old Testament (the Hebrew Scriptures) point towards this One.
We read in Micah 5:2 (New International Version),
"But you, Bethlehem Ephrathah,
though you are small among the clans of Judah,
out of you will come for me
one who will be ruler over Israel,
whose origins are from of old,
from ancient times." Fulfilled Matthew 2:4-6
"Therefore the Lord himself will give you a sign: The virgin will conceive and give birth to a son, and will call him Immanuel." Isaiah 7:14 (New International Version). Fulfilled Luke 1:35
"Sacrifice and offering you did not desire—
but my ears you have opened—
burnt offerings and sin offerings you did not require.
Then I said, "Here I am, I have come—
it is written about me in the scroll.
I desire to do your will, my God;
your law is within my heart."
Psalm 40:6–8 New International Version). Fulfilled Hebrews 10:5-10
There are hundreds of prophecies in the Old Testament that speak of Christ – prophecies concerning His birth, His ministry, His death and resurrection, and His role in the Church. God's people anxiously awaited the one who was prophesied in Scripture until, at last, Yeshua (Jesus), the promised one from the royal lineage of King David, was born – the one through whom God's blessings would flow, the one who would bring forgiveness and restoration to God's broken people. The Messiah, for whom people had awaited for such a very long time, had at last come.
Throughout His ministry, people flocked to hear Jesus speak and to seek healing. They were amazed by His miracles and the things He told them, but not everyone was happy. The religious leaders hated Him for many reasons. They didn't approve of those He socialized with and accused Him of a lack of respect for their religious traditions, such as the strict keeping of the Sabbath. His miraculous deeds of healing caused the people to believe that Jesus really was The Messiah, but the religious leaders attributed His power, especially the casting out of demons, as coming from the devil.
All the people were astonished and said, "Could this be the Son of David?" But when the Pharisees heard this, they said, "It is only by Beelzebul, the prince of demons, that this fellow drives out demons." Matthew 12:23-24 New International Version
Most of all, His claim of being The Messiah outweighed any authority they had and He became a threat to their religious system. They hated Him so much that they arrested Him, tried Him, and brought Him to Pontius Pilate (the governor of the Roman province of Judea) for a sentence of death, which was granted. Jesus was to be crucified. How could this fit into God's plan?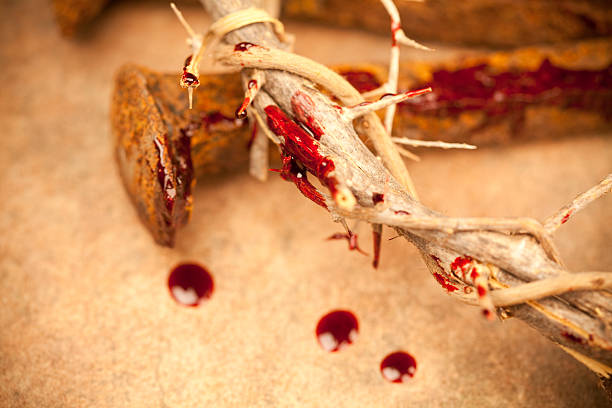 To be continued
Please follow this link to read Part 5
Please follow this link to read Part 4
Please follow this link to read Part 3
Please follow this link to read Part 2
Please follow this link to read Part 1